18 Dec 2013 - 08:44:25 am
Canning Sauerkraut in Your Own Kitchen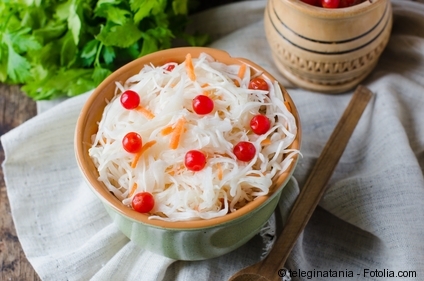 If you've ever made homemade sauerkraut made homemade sauerkraut, you would know that it lasts only two weeks in the refrigerator. If you want to make it last longer, one of the methods you could use is canning; this will extend its shelf life up to a whole year.
Canning sauerkraut preserves, and extends its shelf life, making it last longer. You can make sauerkraut now and you can enjoy it up to three months later. Canning sauerkraut is also a relatively simple process.
What you'll need:
Your homemade sauerkraut

Canning jars

A pot large enough to hold the jars

Water
First off, you'll need to sterilize the jars. Place them in a pan or pot –anything they would fit in, and put enough water to cover them. Make sure the lids are off because you will be sterilizing the lids separately in a different pot or pan. Bring both pots to a simmer until you're ready for them.
The next thing you need to do is heat up your homemade sauerkraut. Place the 'kraut in a large pot, then let it simmer at a medium-high heat, make sure that it does not come to a boil.
Once the jars are sterilized and the sauerkraut finished heating , stuff your homemade sauerkraut into the jars. Remove any air bubbles in the sauerkraut, and make sure that the cabbage is submerged in brine. Leave about half an inch of space between the lip of the jar and the top of the brine; if you need to add more brine to reach that level, then go right ahead.
Clean the lip of the jar and cover it with the lid. Make sure that the lids are placed tightly so no air can get into the jar and cause the sauerkraut to spoil.
Once you are sure that the lids are put on tight enough, it's time to put them in the canner. Place all your jars in the canner and cover with enough water to submerge them. If you don't have a canner, you can use a regular pot, like the ones you used to heat the jars before. Bring the water to a boil – ten minutes for pint jars and fifteen for quart jars.
After the jars are finished boiling, take them out and place them on a dishtowel and let them cool. Once you hear the lid of the jar pop, it means that your sauerkraut are perfectly canned. Your homemade sauerkraut will now last for almost an entire year in their jars.

Take note, the high temperatures involved in

canning of sauerkraut

will pasteurize it. This means all the bacteria that were once in it are now dead. What this means is that fermentation of the cabbage leaves will not continue, so your sauerkraut is going to last longer. On the other hand, this also means that you have killed the healthy bacteria in the sauerkraut along with the bad ones.